Student Leadership
At Thomas Keble, we recognise the importance of nurturing and developing leadership skills and qualities in our students. Our provision reflects the belief that student leaders can shine in a wide range of areas of school life, and with differing leadership styles. Our 'Being a Leader Roadmap' highlights the diverse opportunities on offer as our students move through the school from Y7 to Y11.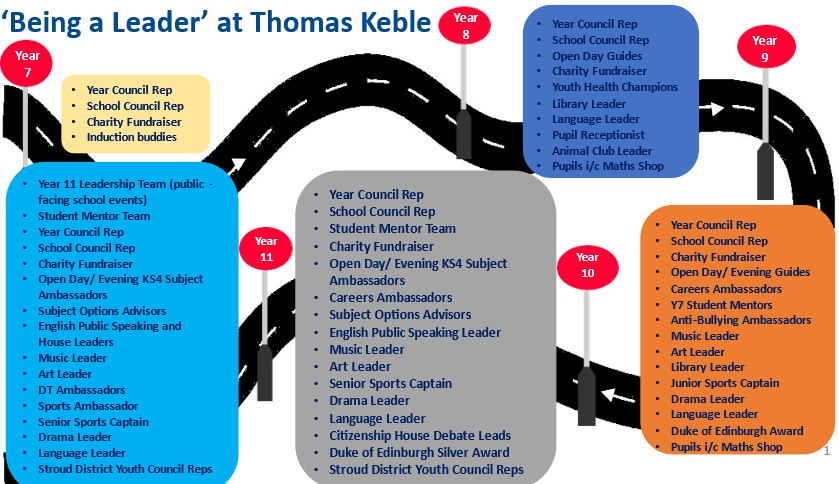 Our leadership roles reflect the full breadth of our curriculum and extracurricular offer.
A wealth of subject leadership opportunities, from ambassadors at School Open Events and GCSE Options Evening, to leaders and captains within Drama, Music, Art, Sport, Maths and more, supporting with enrichment clubs and inter-form competitions.

A range of pastoral and wider leadership areas, including.
Year Council representatives – championing student voice at year-group level and working with Y11 leaders and staff to strive for progress

School Council Representatives - championing student voice at whole-school level and collaborating with senior staff to lead change.

Y11 Leadership Team – representing the school as lead-ambassadors in a variety of ways including at Open Events, leading Year Council meetings, mentoring younger students.

Student Mentor teams across the age-groups.

Y8 and Y9 tour guides for Open Mornings and parent-visitors.

House Captains and Vice House Captains.
Wider-still enrichment areas such as Charity fundraisers, Careers Ambassadors, Library leaders and Animal Club leaders.
In all areas of student leadership, we encourage our students to both have the ambition to seek and grasp opportunities, and to develop the tools to foster their social and inter-personal skills, so that they can represent Thomas Keble School in such a positive manner and also to equip them, with confidence, in moving on to fulfilling futures in life and work.