PSHE
PSHE Education gives pupils the knowledge, skills and attributes they need to keep themselves healthy and safe and to prepare them for life in modern Britain.
At Thomas Keble we believe that students who are emotionally healthy will perform better in school. Our curriculum helps children and young people to achieve their potential by supporting their wellbeing and tackling issues that can affect their ability to learn, such as stress and anxiety and unhealthy relationships. PSHE Education also helps pupils to develop skills and aptitudes like teamwork, communication and resilience that are crucial in navigating the ever changing challenges of the world.
PSHE Education is delivered through discrete lessons within curriculum time (KS3 only), our tutorial programme and an extensive list of external agencies. This allows us to ensure we deliver a comprehensive, and age appropriate programme that will set our students up for the future.
Key Stage 4 curriculum
This is taught through the tutorial programme and external speakers.
Personal Finance
Emotional health and wellbeing
The concept of Sexual consent
How to recognise and manage stress
Self-awareness and sexual health
Keeping themselves safe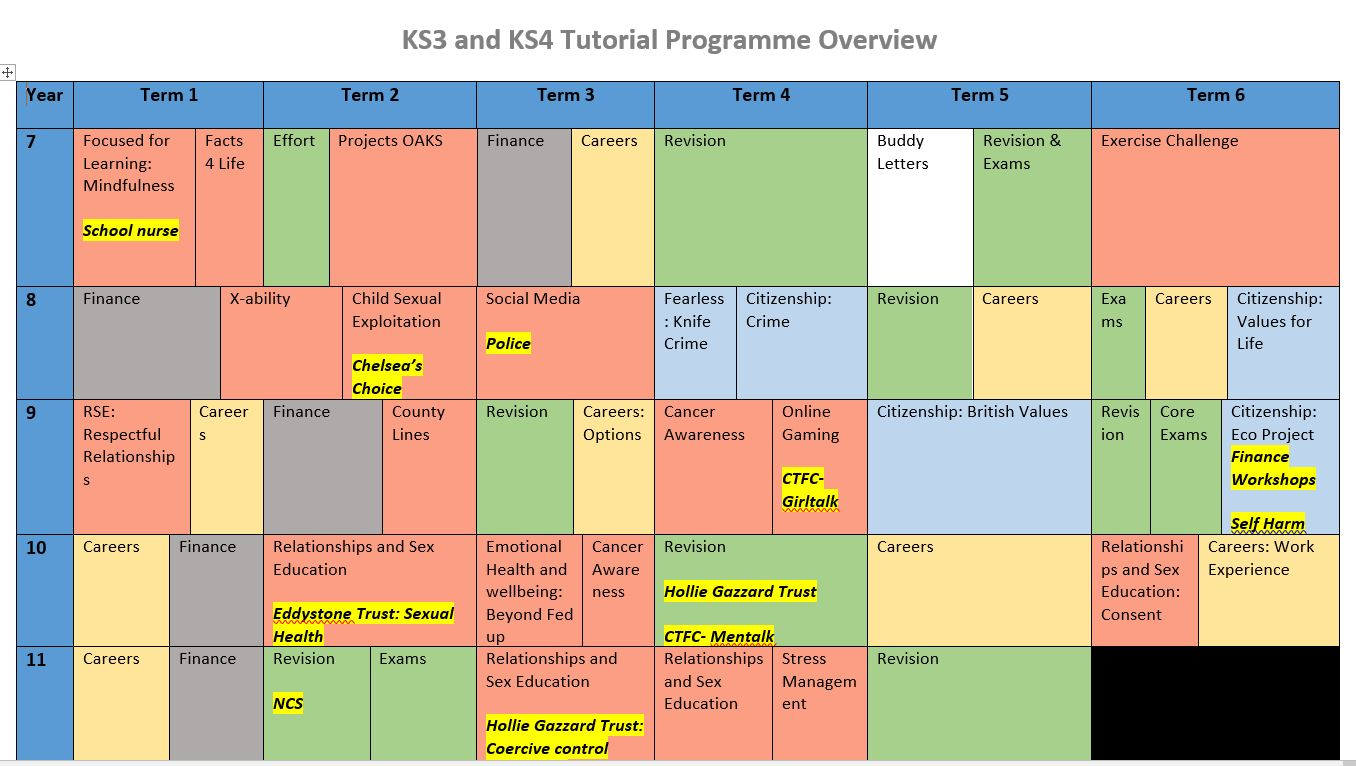 External Agencies:
The Police
Chelsea's Choice (Child Sexual Exploitation)
School Nurse
Teenage Cancer Trust
Citizen's Advice (personal finance)
Crimestoppers
It's in the bag – testicular cancer
Organ Donation
Teens in Crisis
Cheltenham Town Football Club
St James's Place Wealth Management
Samaritans
Satveer Nijjar (Self harm)
Guide Dogs for the Blind
Eddystone Trust (Sexual Health)
Hollie Gazzard Trust
National Citizen Service
More useful links can be found here: Student Support