PSHE
Citizenship equips young people with the knowledge, skills and understanding to play an effective role in public life. Pupils learn about their rights, responsibilities and duties as well as about laws, justice and democracy. They develop the skills required to play an active role in the life of their schools, neighbourhoods, communities and wider. They learn to reflect on their actions now and in the future.
Citizenship encourages respect for different national, religious and ethnic identities. It equips pupils to engage critically with and explore diverse ideas, beliefs, cultures and identities and the values we share as citizens in the UK. Citizenship also addresses controversial issues relating to social justice, human rights, community cohesion and global interdependence and encourages pupils to challenge injustice, inequalities and discrimination. It helps pupils to become informed, critical, active citizens who have the confidence to work collaboratively, take action and make a difference. In Year 7, Citizenship is taught weekly in Term 5 and 6 in CPSHE lessons. In Year 8, Citizenship is taught weekly in Term 3 and 4 in CPSHE lessons. In Year 9, Citizenship is taught and assessed as a separate subject by specialist teachers.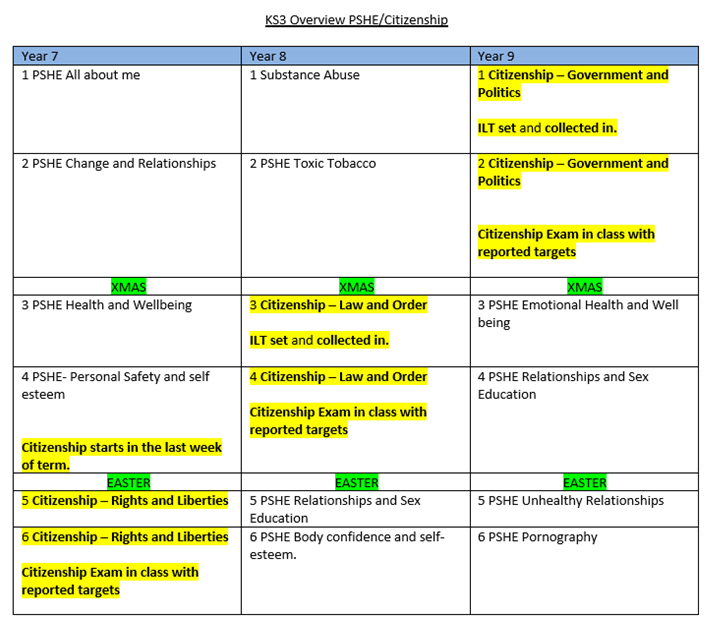 Year 7 and 8 Citizenship includes a short 'Citizenship Action' project when pupils are asked to plan and activate an action that makes a difference to their community.
Year 7, 8 and 9 have an ILT embedded in the course.