Music
At KS3 Students are encouraged to explore musical genres, skills and traditions. Each year group will cover six unique topics with a focus on either performance or composition alongside relevant listening. Students will use keyboards, ukuleles, un-tuned percussion and music technology with assessment focused on their instrumental skill development and their use of core musical understanding. Students will have access to extra-curricular ensembles and can also opt to learn an instrument with one of our peripatetic tutors (please see below for further information).
Click here for curriculum map details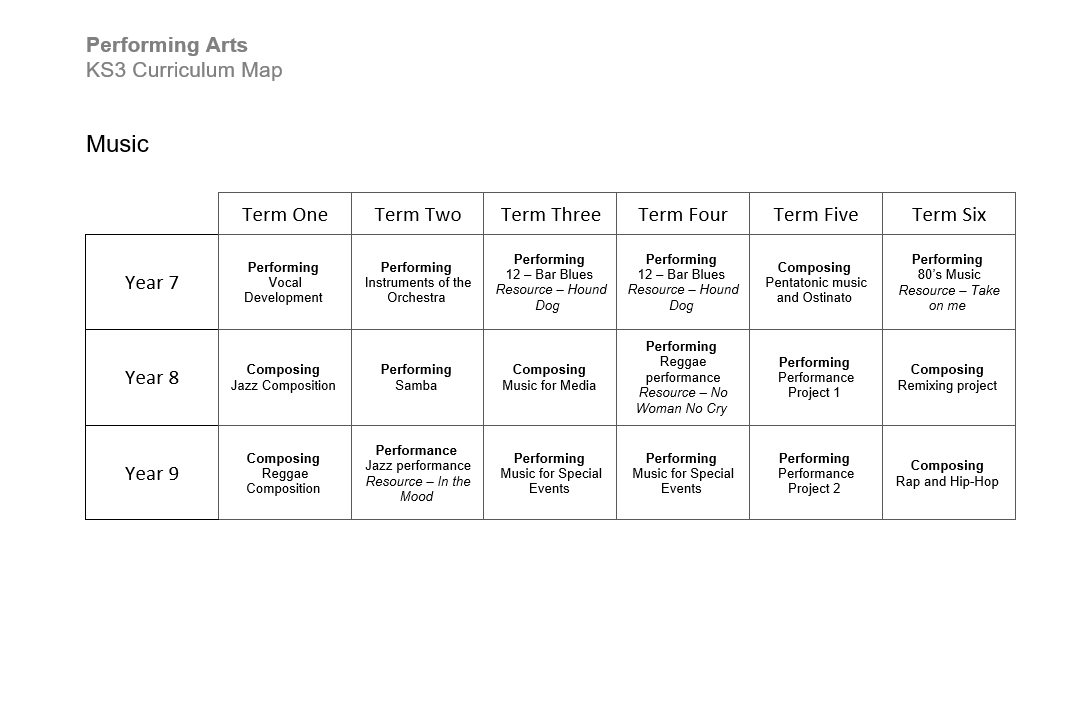 Units covered at KS3 include:
Year 7
Programme Music
West African Drumming
Keyboard Skills
Ukulele Skills
Samples and Loops
Composition Project
Year 8
Gamelan
Hawaiian Song
The Blues
Theme & Variation
Ableton Beats
Film Music
Year 9
Pop Song
Samba
Protest Song
Codebreakers
Ableton Skills
Electronic Dance Music
Peripatetic Music Lessons
Thomas Keble School recognises the importance and value of learning a musical instrument. Not only does it further an individual's musical interests, abilities and knowledge, but it also helps their personal and emotional development, physical and motor co-ordination and facilitates the learning of a variety of social skills in addition to the development of perseverance and self-discipline.
With that aim in mind, we presently utilise various local specialist teachers to provide the school with a range of extra-curricular lessons and we will seek to maintain that provision and increase it whenever appropriate, in response to the needs and interests of our pupils.
If your child is interested in having lessons, please contact the appropriate teacher. If the interest involves an instrument not covered in the list, please contact the Head of Music and we will endeavour to find a suitable teacher, although obviously no guarantee can be made.
Please ask your son or daughter to speak to Mr Burgess in the Music Department if they require any further information.
| | | | |
| --- | --- | --- | --- |
| Brass | Cornet; trumpet | Miss Saffron Young | syoung@thomaskeble.gloucs.sch.uk |
| Double Bass | | Miss Saffron Young | syoung@thomaskeble.gloucs.sch.uk |
| Drums | Drum kit; orchestral / percussion | Mr Jon Green | jongreendrumming@hotmail.co.uk |
| Guitar | Acoustic; electrical; classical | Ms Hayley Savage | Hayleysavage15@gmail.com |
| | Mandolin; ukulele | tbc | |
| | Bass guitar | Miss Saffron Young | syoung@thomaskeble.gloucs.sch.uk |
| Piano | | Ms Hayley Savage | Hayleysavage15@gmail.com |
| Singing | | tbc | |
| Violin | | tbc | |
| Woodwind | Flute; clarinet; saxophone | tbc | |
| DJ-ing | | FutureDJs | https://futuredjs.org/get-involved/students |