Drama
At KS3 students are taught Drama one lesson a week. Whilst there are strong links between Drama and English, the teaching of Drama at the school in Years 7, 8 and 9 holds its own place within the curriculum, offering students learning opportunities which are unique to the subject, and the schemes of work in Drama focus on promoting students' creativity and performance skills, as well as their social skills.
Please click here for the details of curriculum map.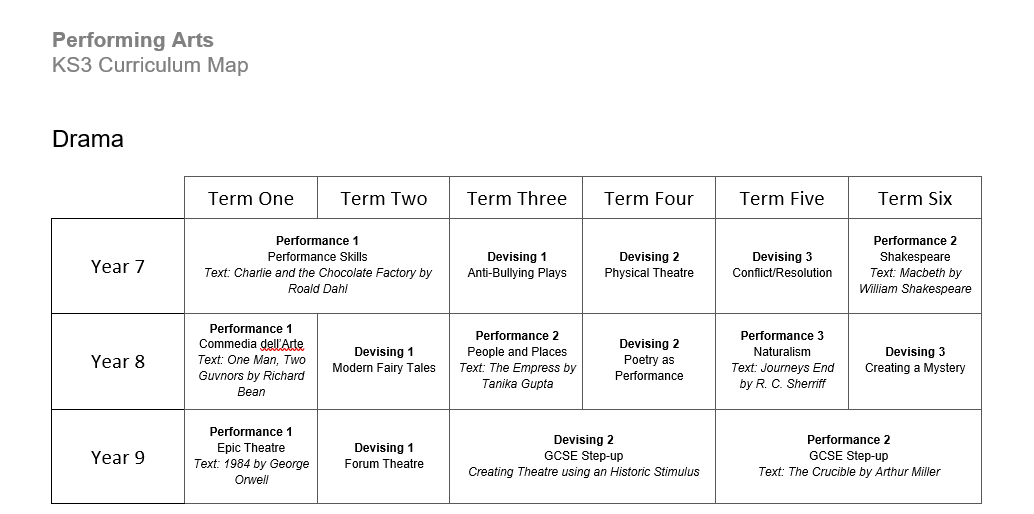 There is an emphasis in Drama on the development of specific skills relating to self-awareness, the presentation of self to others, and the wide variety of physical and verbal means of communication for a particular purpose. Students are taught how to present themselves and their ideas clearly and confidently, interact sensitively with others, and evaluate their own progress closely, setting targets for improvement at the end of each project.
Below are some of the drama skills that students work on at KS3.
Group work skills
Co-operating
Listening to others
Suggesting ideas
Encouraging others
Compromising
Concentrating
Being sensitive to others' wants and needs
Feeling confident
Thinking positively
Staying in a good mood!
Performance skills
Feeling confident and controlling nerves
Staying in role
Speaking loudly and clearly
Remembering what to say and do
Using the stage well
Facing the audience
Using expressive movement and voice
Showing clear facial expressions
Being sensitive to the mood of the piece
Encouraging others to perform well
Assessment
During the course of a project, there are many opportunities for students to assess their own individual progress and the progress of other students through verbal evaluations of their practical work. Such verbal discussions and feedback serve to assist students in assessing their own progress throughout a project and to try to improve their standard of work prior to their summative assessment at the end of each project. Homework is generally set at the end of each project and constitutes a full and detailed written assessment of their achievement in the areas of performance skills and group work skills, together with the requirement for them to discuss their last targets and decide on their targets for the future.
Students record their progress in terms of their group work skills for each project, while their teacher records their performance skills and written evaluation skills. In marking, comments are made to assist students in reflecting on their achievement and targets for the future. Other, shorter homework tasks may be set during the course of a project which relate directly to the development of the work in progress.