Design Technology
Throughout Key Stage 3 all pupils experience each subject area within Technology several times. During Years 7 and 8 they study each of the four material areas on a 9-week carousel basis. During Year 9 they will complete either 2 or 4 material areas based on their mini-options, allowing them to develop a greater depth of knowledge in their preferred subjects.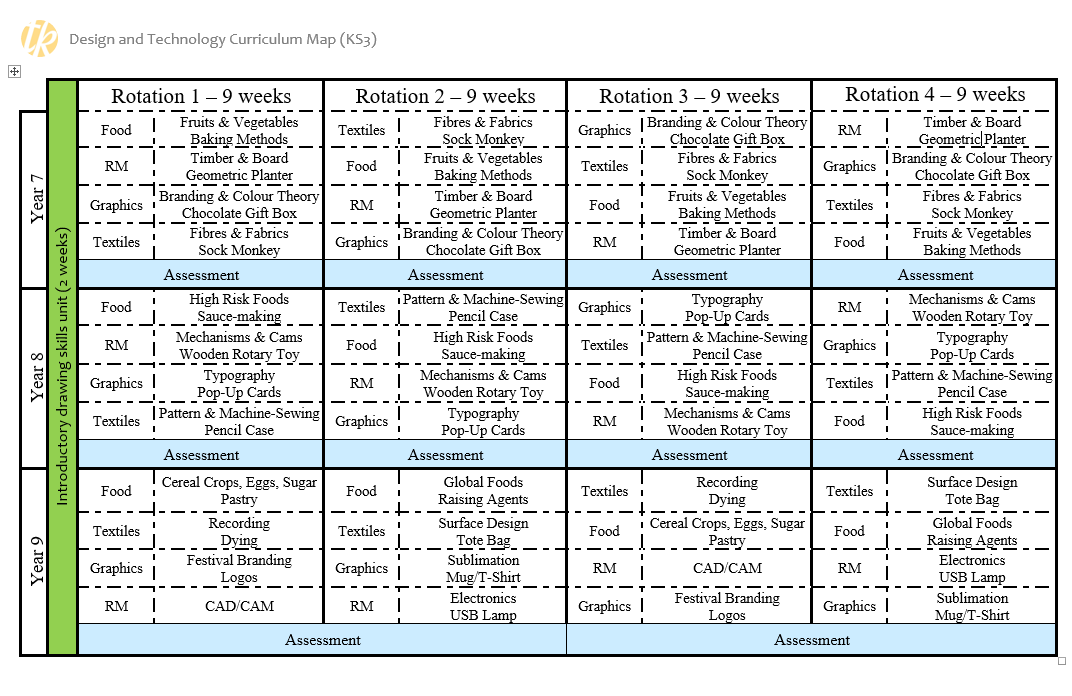 Food Technology
Year 7
In Food Technology pupils gain an understanding of the 'eat well plate' and the importance of healthy eating. They also learn about the safe use of equipment and hygiene. They will also begin to delve into food science by examining fruits and vegetables as a commodity. They make a variety of dishes including salads, soups, baked goods and hot puddings. The recipes are designed as a platform for further skills-based learning in Years 8 and 9.
Year 8
In Year 8 pupils build upon the skills they have learnt in Year 7. The aim of the course is to help them understand the role of protein in the diet and its various food sources. They will learn about the science behind the production of dairy products, the safe way to cook high risk foods and will progress to cooking basic meals such as macaroni cheese, fajitas and Bolognese.
Year 9
More advanced nutrition, an introduction to microbiology and the study of cereals and eggs are all part of the Year 9 module. Students are also afforded their first real opportunity to select, develop and adapt their own recipes. This will include use of ICT to cost recipes and conduct nutritional analysis. Skills such as bread and pastry making are developed.
Graphic Products
Year 7
Pupils are introduced to Graphic Products by investigating different nets to come up with their own ideas based on a chosen theme to make an electronic lantern. They will be developing their design skills by using different drawing techniques and using various modelling materials to extend their ideas.
Year 8
In Year 8 students will develop their knowledge of 2D vector graphics software. They will use this knowledge to produce a pop-up card based on a theme of their choice and with the use of experimenting with different mechanisms. They will also use the software to digitise their own drawings to form part of the final outcome.
Year 9
Students in Year 9 will use the knowledge developed over the previous two years to produce branding for a new festival. They will use 2D and 3D CAD software to produce a variety of different products to be used in a festival of their making. This project involves hand making skills and digital design.
Resistant Materials
Year 7
Pupils will develop a design for a fridge magnet, which incorporates layering acrylic plastic. They will be taught research and design skills before generating designs of their own. They will also be taught how to use a variety of hand tools along with some workshop machinery to produce a final outcome after modelling using card.
Year 8
Pupils will develop a design for a clock, using a chosen theme and target market and a variety of hand tools. Students will be encouraged to explore a range of manufacturing techniques during this project, building upon the skills developed during Year 7. They will also be taught how to use a 2D design software to produce an engraving along with the use of a line bending process on the plastic.
Year 9
Year 9 pupils will be designing and making a portable speaker. They will be creating the body of the speaker using softwood, exploring the skills of making a joining method along with an acrylic front design. They will also be required to make the electronic circuit to enable the speaker to work as well as using CAD software for the front of the speaker.
Textiles Technology
Years 7 and 8
Pupils are introduced to Textiles, how they are made and their properties. They also look at the importance of textiles in their lives and historically to the Stroud area. Pupils design and make a sock monkey using variety of fabrics. During this module pupils will learn how to use the sewing machine and experiment with the process of weave.
Year 9
In Year 9 pupils will be making a bag around the theme of festivals. Surface decoration techniques will be demonstrated and sampled before designing and making a final finished product. They will be developing their knowledge in production techniques and surface decoration to make the bag attractive and appealing to a selected target market.