Call It Out workshops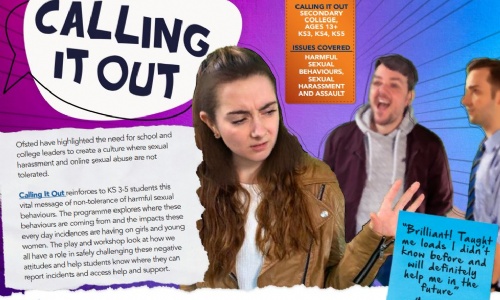 Calling It Out is a theatre in education programme aimed at years 9-13 (ages 13 upwards) which was delivered to Year 9 on Friday 7th July. It is an age appropriate and well researched programme designed to raise awareness around the topics of sexual assault and harassment
Calling It Out is a theatre in education programme aimed at years 9-13 (ages 13 upwards) which was delivered to Year 9 on Friday 7th July. It is an age appropriate and well researched programme designed to raise awareness around the topics of sexual assault and harassment. Calling It Out was created and delivered by Loudmouth Education and Training. The company has been delivering Relationships, Sex and Health Education (RSHE) since 1994 and has reached over one million children, young people, professionals and parents across the UK.
The programme, Calling It Out, supports the ongoing work in schools to create a culture where sexual harassment and abuse are not tolerated and links directly to the Government's RSHE statutory curriculum which says that students should know:
The concepts of, and laws relating to topics including sexual consent, harassment, and rape and how these can affect current and future relationships.
How people can actively communicate and recognise consent from others.
How to identify harmful behaviours online (including bullying, abuse or harassment) and how to report, or find support.
The programme uses drama, a character Q&A session and discussion to raise the pupils' awareness of harmful sexual behaviours, where these behaviours are coming from and alternative positive behaviours. The booklet below is made available to parents as a useful follow up.